Smart Scheduling - Update Overview
The updated PatientNow Scheduler helps prevent double booking providers, rooms, and equipment while also eliminating the need to create a default schedule for rooms or equipment. With the update, configuring Resources (providers, rooms, and equipment) and Appointment Types is more efficient. Using the updated Smart Scheduler also makes booking appointments effortless, by only presenting appropriate Resources based on Appointment Type and automatically assigning any Resources that are not manually selected.
Configuring Resources and Appointment Types in the new Smart Scheduler also applies to patients scheduling on MyAppointmentNow Booking Portal and the iOS Mobile Application. Patients will no longer be able to accidentally double book any provider, room, or equipment.
Please note that the update will not change your current scheduler or configuration. The updated Smart Scheduler is available to all practices should you choose to use it. For details on configuration and usage, please see:
Default Settings
With the update, some default settings will take effect in order to not interfere with the practice's current configuration.
1. Rooms and Equipment Will Default to "All Facilities"
In the Administration > Data Usage > Appt Resources tab, all rooms and equipment will default to "All Facilities." This can be modified using the dropdown menu to assign a particular room or piece of equipment to an individual facility. See "Smart Scheduler - Configuring Resources" for details. Note that this only applies to practices with multiple facilities.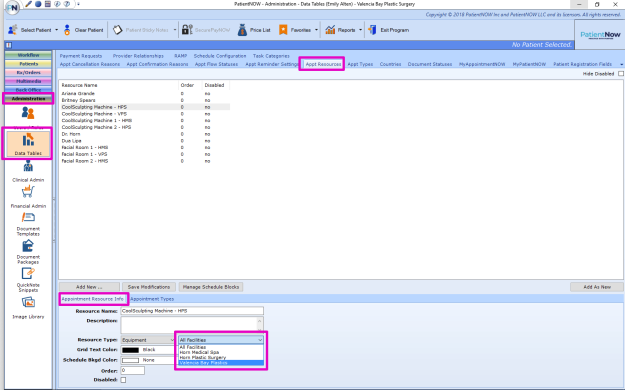 2. Appointment Resources under Appt Type will List All Resources & Facilities as "Allowed."
In the Administration > Data Tables > Appt Types > Appointment Resources tab, all Resources & Facilities will be listed under the "Allowed" section. Any Resources that were previously listed as "Assigned," will now have a "Required" box checked. See "Smart Scheduler - Configuring Appointment Types" for details: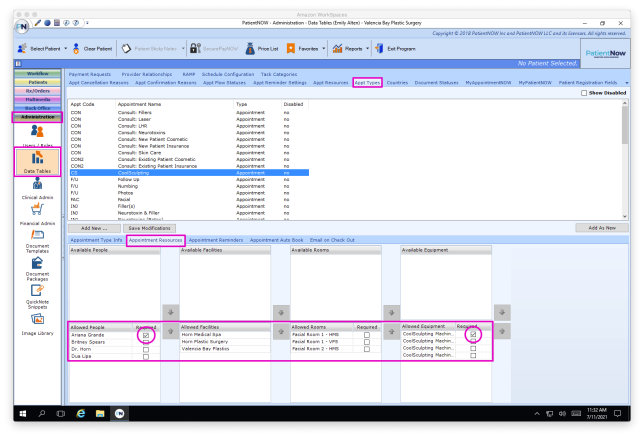 Smart Scheduler Benefits
1. Only Allowed Appointment Types are Shown for Specified Provider
When booking appointments for a specific provider, as long as the Resources have been configured (see "Smart Scheduler - Configuring Resources for details,) only the Appointments that the provider is allowed to perform will appear in the dropdown menu.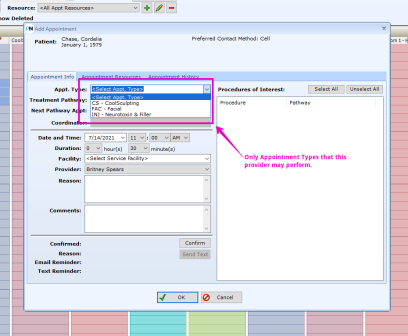 2. Booking Appointments Automatically Assigns Appropriate Resources
When booking appointments, the Smart Scheduler will automatically assign available and appropriate Resources based on the Appointment Type. The scheduler will alert the user if there are any fully booked Resources required for the appointment, and only users with override privileges will be able to double book a Resource. Resources may still be assigned manually, but it is not necessary: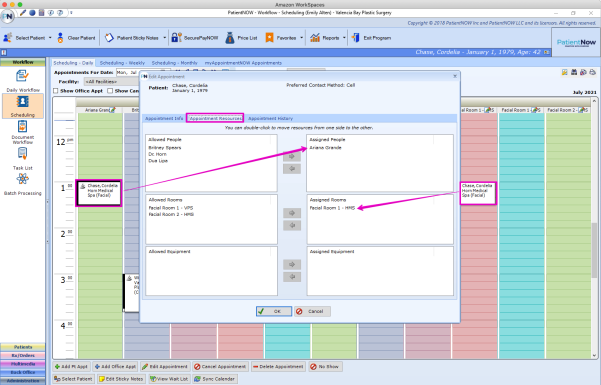 The Resources Above were automatically assigned.
Summary
The updated Smart Scheduler makes booking appointments across multiple facilities, providers, rooms, and equipment more efficient and effortless. Default configuration has been put in place so that if a practice chooses not to re-configure their Resources, their scheduling will not be affected.
Please note that default schedules are no longer required for Rooms or Equipment to avoid double booking. Default schedules are still necessary for providers.